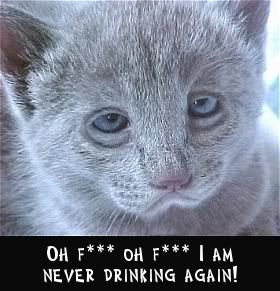 Oh. My. God.
Always a downside to a bank holiday weekend... The mother of all hangovers struck me down this morning. I swear it could have slain a dragon...
Anyway at some point in the last year I stumbled upon the only way I could handle a hangover - stay in bed all day with my iPod in my ears playing what has become known as my hangover playlist. A pretty good mix of mainly folky and acoustic stuff it does the job so I'm gonna share the list with you now. Try it sometime. The next day you are dying from the night before... Enjoy.
J. Tilman: James Blues and Steel on Steel, taken from 'Vacilando Territory Blues'
Bon Iver: Blood Bank, from the Blood Bank EP & Brackett, WI, from 'Dark Was The Night'
The Tallest Man on Earth: King of Spain, taken from 'The Wild Hunt'
James Vincent McMorrow: If I Had A Boat, from 'Early in the Morning'
Ryan Adams: La Cienaga Just Smiled & Sylvia Plath, from 'Gold'
Lisa Hannigan: An Ocean & A Rock, from 'Sea Sew'
Feist & Ben Gibbard: Train Song, from 'Dark Was The Night'
The Books (ft. Jose Gonzales): Cello Song, from 'Dark Was The Night'
Ray LaMontagne: Trouble, from 'Trouble' & Be Here Now, from 'Till The Sun Turns Black'
Well there we go. I could easily keep going but you get the gist I think!
I suppose to finish on the hangover thing... Hair of the dog makes me ten times worse - I have always felt that a fruit smoothie and scrambled eggs does the job.